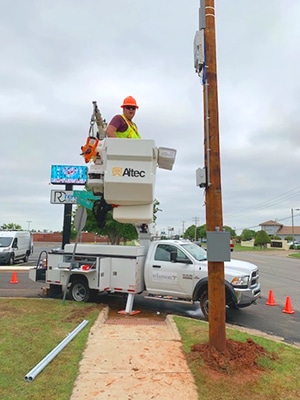 CARMEL, INDIANA – MAY 20, 2019– Telamon Corporation is pleased to announce commercial availability of small installation services for the public ROW in the following markets: Arkansas, California, Illinois, Indiana, Kansas, Kentucky, Minnesota, Missouri, New Jersey, New York, North Carolina, Ohio, Oklahoma, South Carolina, with 5 more markets to be announced in the next 60 days. Following its successful acquisition and integration of CLS Group into Telamon, Telamon has again expanded their ever-increasing service offerings to include Small Cell Installation. Telamon Small Cell Installation Service takes the install from site NTP to integration and includes the following services, as necessary: project management, power coordination, backhaul connectivity coordination, regulatory, physical construction and integration.
Telamon is combining 7 years of experience in the Small Cell market through inbuilding and campus installation with a robust Site Acquisition and A&E business with their already existing, robust national field and engineering teams to offer services in these markets.    "Installing small cell is not hard, but running a successful small cell business while meeting clients' site by site expectations is, due to the erratic nature of site readiness.  We are combining our well-earned reputation for quality with more than 200 resources in the field to exceed our clients' expectations.  Our resource levels in these markets allow us to efficiently manage and allocate resources between technologies and projects, as our clients' site plans evolve.    We are positioned as one of the few companies with the resources available to meet the exciting industry install forecast for 2019 – 2022," remarks Randall P. Muench, President of the Telecom Solutions division of Telamon Corporation.
After the completion of an install in early May, one client said, "We weren't sure how the first install in this market would go since the site had both 4G and 5G on it, but the [Telamon] team completed it in one day and right on our SOW.   We are glad we gave your team [Telamon] an opportunity."
Telamon's Small Cell Installation Service announcement completes the turnkey offer.   Currently, Telamon's Wireless Division has thousands of small and macro cells in progress for A&E and Site Acquisition.    Now, clients are able to utilize both Telamon's full turnkey service or ala carte offerings to round out their needs on a market by market basis.  Simplifying business has been a cornerstone for Telamon since inception, and this new offering truly simplifies the process by allowing customers to select their needed services based on market.